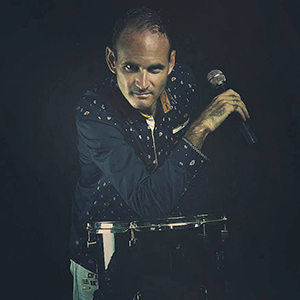 Since a child he has always been fascinated by the show business.
At the age of 5 he joined the Treble Choir of his country.
At 12 he attended for four years private lessons of saxophone with the master Giuseppe Raffaele Barletta and at the same age he starred also in two plays they made him love the environment of acting too.
He was children's entertainer in the Church of Bussero.
At 16 years he took lessons in operatic and modern singing for a year at the 'Nova Canendi Academy' with the soprano Simonetta Minervini.
Later he took lessons of modern singing with the musician and singer Gianluca Sambataro at the Aloysius School in Bussero (Milan).
He took part in the gospel choir of the 'Giordano Bruno' High School in Melzo. Since the secondary school he was already active with his band 'Blues Friends' with whom he recorded two demos with cover versions. He organized several events in the course of his life: at High School with the support of the headmaster, at the university with the collaboration of the Professor Saverio Monno, with his band.
However he has always loved the show business. He has always loved music and also to sing, to express himself, to have fun and entertain at the same time and to transmit positive energy to those who listen to him. This is an attitude that he has developed through the time paying gradually more attention to the messages the words set in music may communicate. Growing up he started to consider the role of music and its power to influence lives especially of adolescents and young people. Therefore he decided to write music to carry on the values in which he firmly believes and to write songs that tell his life, his inner struggles and personal growth that changed his way of seeing things and of experiencing the world.
The main purpose of the words he put into melody is to invite everyone to put wings of freedom and fly towards the eternal infinity.
In June 2014 he left for Sierra Leone to carry out social projects for Solidarity he is the Founder.
During his stay he accepted the challenge as an artist of making a music disc produced on site. He decided to improve his voice enrolling at the Ballanta Music Academy in Freetown, but in particular to customize his singing and rediscover himself.
In the same period he himself wrote seven lyrics and thanks to the help of producers, engineers and recording studios, after months of intense work finally these words took soul.
He started spreading his music in villages among young people because his words set on music are meant to stir consciences, hearts and reach souls to bring hope, love, courage, joy, desire to react without continuously succumbing to misery and poverty.
As young man he wanted his lyrics to take voice through different sounds, since musical genres are so different just as diverse may be the steps a soul can cross; from the romanticism and sweetness to a wild dance as expression of oneself, to the rap spirit to face society, to the resurrection of the rock'n'roll.
He also tried to show that even in a Third World country one can achieve something important and of high quality with producers, engineers, artists that work passionately for the success of a good product.
Now he doesn't want this disc to be broadcast only on Sierra Leone's national radio, on the contrary he wants it to reach the hearts of all young people in the world, men and women, that in different ways need a light of hope, support and optimism. Often the words of a song reach more people than many speeches can do.
In a society in which we are constantly surrendered by negative news that leads to pessimism, fear, discouragement and often makes us turn in on ourselves, he believes it is necessary to join forces to react and give the world a ray of light. This may give the strength to fight and to go ahead but not by inertia or because you have to, but because you believe that with God's help a change is still possible.